ready to business!
In the heart of Milan, since 2016 TOYS & BABY MILANO has been a privileged meeting showcase for professionals from the game, toy, early childhood, stationery, carnival, festivities and party sectors, enriched by some moments of professional in-depth analysis: a unique event in the Italian panorama!
In a dynamic atmosphere, companies present their leading products to buyers in the sector to be informed and updated on all the novelties also in view of the Christmas season. It takes place over two days (Sunday and Monday) at the Allianz MiCo, Europe's largest conference and events centre, an ideal place to realise business and lay the foundations for new partnerships.
The Sectors of TOYS & BABY MILANO:
Toys, Childhood, Stationery, Carnival, Decorations, Parties
a "unique" and "innovative" exhibition
TOYS & BABY MILANO is a high added value meeting point between companies and buyers, to increase and consolidate their brand awareness in a dynamic and prestigious context that offers an engaging experience for the visitor.
These are some of our strengths, appreciated by both exhibitors and buyers:
simple formula: pre-set spaces and low costs

buyer care (dedicated concierge service)

communication and promotion targeted at the professional visitor

ideal product mix among the sectors represented
childcare area

because things are done big for the little ones!
The sector dedicated to the world of early childhood is constantly growing and hosts the most important and interesting brands on the market. The aim is to become more and more a point of reference in Italy and worldwide.
From cots to prams, from high chairs to changing tables, baby carriers, baby bottles, car seats, breastfeeding, baby food, clothing, accessories and much more.
At TOYS & BABY MILANO, companies present their products to an audience of insiders in order to seize new business opportunities.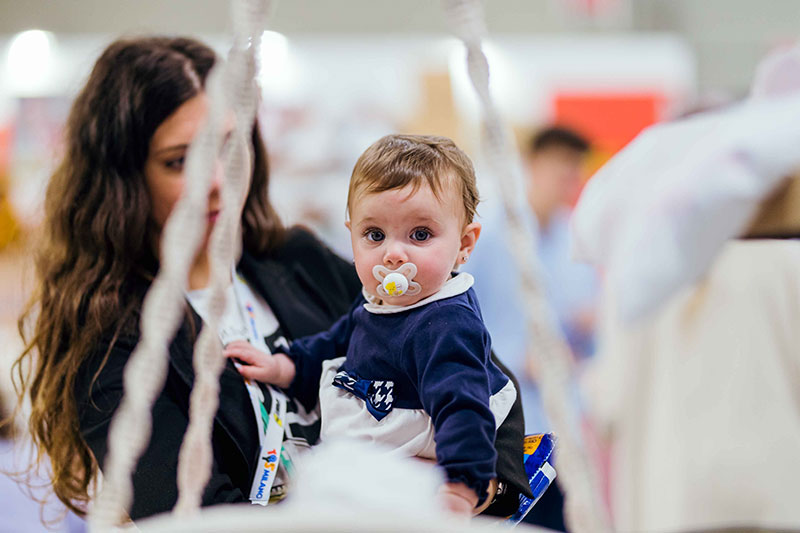 digital edition


there's also a PLUS, 100% Digital!

the version that adds value to the "classic" edition
TOYS & BABY MILANO PLUS is our digital edition: synergic, complementary and not a substitute, a further opportunity that marks a new way of doing business in step with the times, taking advantage of the resources made available by the web.
Through a simple procedure, buyers in the sector are accredited to the platform and can view in detail the offer proposed by the registered companies; in turn, the companies have the opportunity to highlight their products, add descriptions and multimedia content, and directly contact the potential buyer interested in more information on what is presented.
editions archive



unlock a memory: relive the excitement!
This section contains videos and the most beautiful photos with some of the protagonists of past editions. Also available are the event programms and the complete list of exhibitors who contributed to the success of TOYS & BABY MILANO.
Choose and click on the year of your interest for more information:

TOYS & BABY MILANO, a professional international exhibition is organized by Salone Internazionale del Giocattolo in partnership with Assogiocattoli. Access is strictly reserved for all categories of buyers in the sectors represented.